How to Remove Ceramic Tile From Concrete Floor
Now that you are ready to give your house the change it deserves, it's time to look at some nitty-gritty details.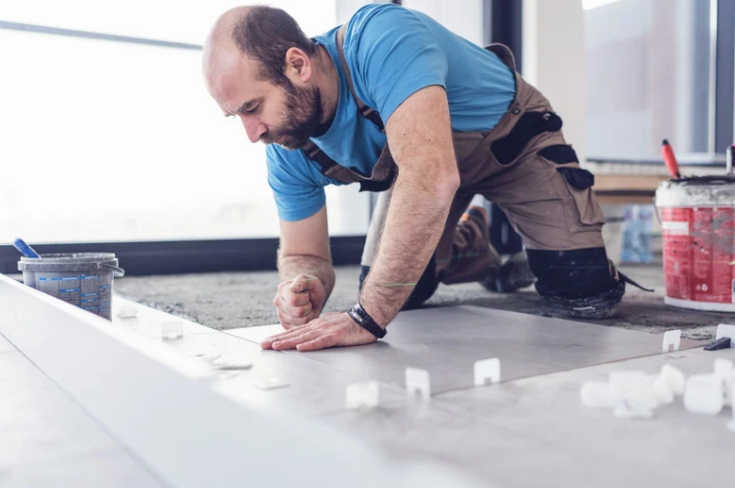 Step 1: Examine the Project
Before starting, you must take a look at the project. Is the tile you are planning to remove from the guest room or kitchen? Remember, the more tile you remove, the more complex and prolonged the job will be.

For instance, removing tile from the kitchen could make preparing food extremely difficult for several days. Also, this goes without saying that dust from work might end up on cooking surfaces and inside cabinets.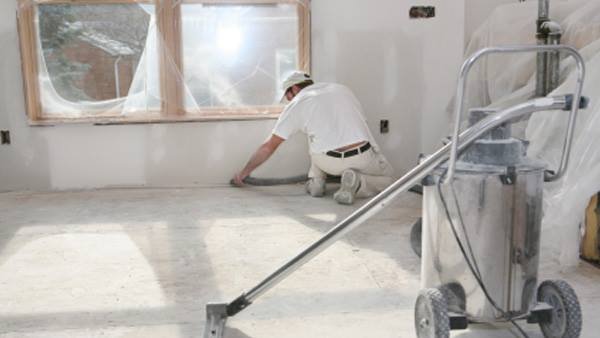 Step 2: Remove the Fixtures
Before diving in and removing your tiles, prepare your rooms for work. This straightforward process would help you set yourself up for success whilst protecting your belongings.
As previously stated, tile removal is a dusty job. You do not want your ventilation system clogged with tile and debris. Therefore seal off your vents with plastic wrap and painter's tape. Remove any baseboards from your walls with the help of a hammer or screwdriver. Be careful as you might want to install them once this job is done.
In case of bathroom tile removal, disconnect any fixtures that might obstruct the tile removal from the room. Before extracting a toilet or sink, switch off the water supply. Drain the tank, remove bolts, and sand the fixture to interrupt the wax seal before detaching a toilet. We recommend calling a plumber to remove and re-install any fixtures with waterlines.
If you can't move something but don't want that to get covered in debris, such as a kitchen counter, cover it with a tarp.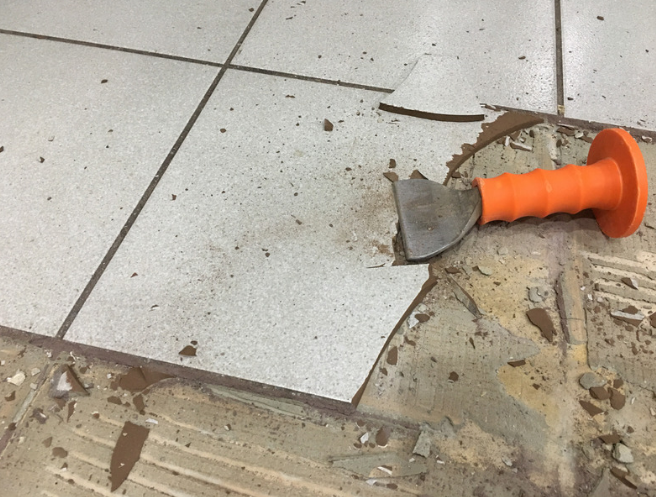 Step 3: Make a Starting Point
If the tile was installed around a semi-permanent fixture or a vanity, a rough edge would be revealed, giving an excellent place to start when removing tiles. If your tiles are wall-to-wall, a hammer or a chisel may be required to break out the tile to create a beginning point for tile removal. Tiles can be attached with mortar or adhesives and come up easily or with great difficulty, depending on how they were attached and the underlayment type beneath them. To remove tiles, use a chisel and hammer or pole scraper.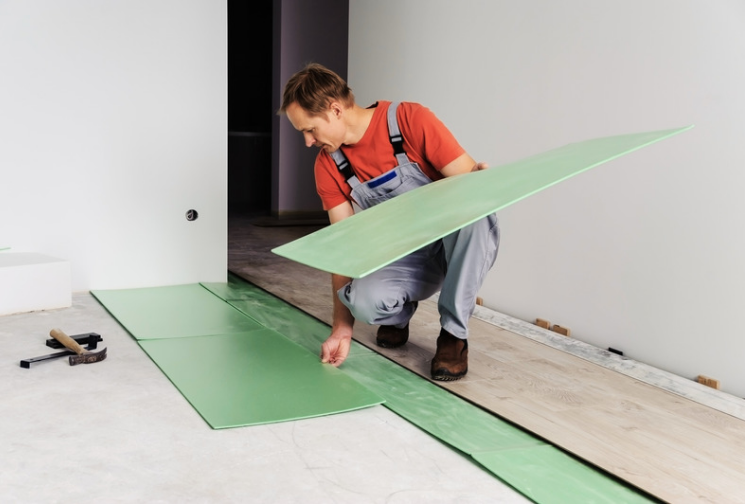 Step 4: Find out What's Beneath Your Tile
The next step is to examine what's beneath a tile after you've pulled it up. The method for removing tile differs based on whether the underlayment is cement, plywood, or a thick bed of mortar and whether you want to salvage the underlayment.
If your underlayment is plywood, one method is to extract tile rows along the length of your floor.
Then, use a 12-inch-long reciprocating saw blade, and trim the plywood in both directions, but be careful not to cut into the subfloor.
If your underlayment is destroyed by water or torn up, it might be time to remove it. Here's how you can do that:

Your underlayment has so many screws. Extract the visible ones
Lift the underlayment up with your screwdriver. Don't be concerned if it breaks because you won't be reusing it
Continue prying until all of the underlayment is removed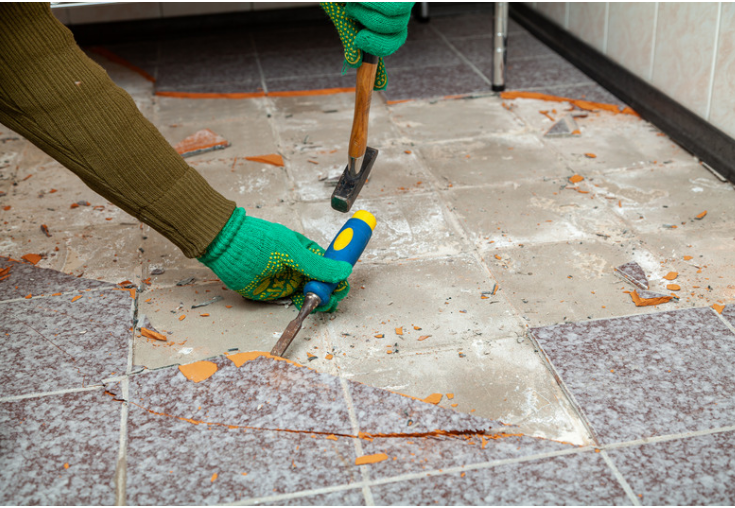 Step 5: Remove the Tile
This is the point at which the actual work begins. Once you have established a starting point and determined what's beneath, you can concentrate on removing the unwanted tile.
The most common method is to work a pry bar underneath the tile and lift it up. The tile will usually appear in bits, but if you're lucky, it will appear in one piece. To break the tile into removable tile pieces, you can also employ a hammer and chisel or strike it with a center punch.
Once you've stacked enough tiles, use a floor scraper or an air hammer with a chisel set to extract most of the tile. These tools will not only make the process go quicker, but they will also reduce the time and effort required to lift the tile up. As you get closer to cabinets or walls, be prepared to use the chisel or pry bar again. Remember that this section of the job will take some time. Don't be deterred if it takes longer than expected.
Also, here's the tip, try not to use too much force while working, as this could cause deterioration to the floor or perhaps even personal injury. Scoop up larger chunks of tile with a shovel and place them in a bucket.