Blog > A Luxurious Bathroom on a Budget
A Luxurious Bathroom on a Budget
Friday, January 24, 2020 11:11 AM


---

Whether you're creating a classic-style bathroom for resale purposes or for your personal enjoyment, you may want to choose materials that will add value to your home and are durable.  

Today, consumers can choose from a number of sizes and look to create a bathroom or shower with incredible style.  While marble looks luxurious, it can be quite costly and requires more maintenance than other materials such as porcelain. Several companies offer porcelain tiles that have a true-to-life marble look or some of the collections create the look with their lines of inkjet-printed porcelain tiles.  These looks mimic marble so well that you cannot tell that it is not the real thing!

Consumers can choose from a number of looks and sizes to create a bathroom or shower with incredible style.  Porcelain tile is harder and less porous than ceramic and it is very easy to clean, and it never needs to be sealed like stone or marble.

Porcelain also resists bacteria and odors, but most of all it resists water, so it can handle spills and splashes.  

Bisbee's Flooring Center has installed the Ainslee Park collection from Florida Tile in a few of our customer's master showers.  The bold graphic in this marble look allows each color to stand out. Most of these products, offer several different sizes and also have to coordinate 2x2 or 2x4 mosaics that could be used for the shower floor and they have coordinating bullnose to frame out a shower doorway and a niche.  Most of the marble-look tiles offer a matte or polished tile so you could opt for a polished tile for the shower walls and a matte tile for the shower floor.  

Here are a few images of the Ainslee Park porcelain tile: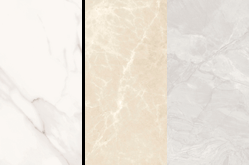 If you are looking for a classic look found in marble, then choose a porcelain tile then will offer you the same visual but with less maintenance.  

Looking to remodel your bathroom using brand-new tile? Our experienced staff can help! Bisbee's Flooring Center services the Sun Prairie, McFarland, DeForest, Madison, Stoughton, Marshall, Waterloo, Deerfield, and Cottage Grove areas. Stop by our showroom today to design your dream bathroom!